Lawsuit alleges Monsanto suppressed evidence linking RoundUp to non-Hodgkin lymphoma
"Monsanto has long been aware of the risk that its glyphosate-based herbicides are carcinogenic … but has continuously sought to influence the scientific literature to prevent its internal concerns from reaching the public sphere," wrote San Francisco Superior Court Judge Curtis Karnow in an order he issued last week, fast tracking the case of a 46 year-old father of 3 dying of cancer.
California groundskeeper DeWayne Johnson's case is at the forefront of a larger legal battle, in which 4,000 plaintiffs have sued Monsanto alleging exposure to Roundup caused them, or their loved ones, to develop non-Hodgkin lymphoma.
Johnson, who has months to live, hopes to get Monsanto to take responsibility for his fate before he dies.
His case goes a step further than the 4000 other plaintiffs', alleging not only that Monsanto's weedkiller causes cancer, but that they company has known about it for decades and has aggressively hidden the information from regulators and the public.
Monsanto "championed falsified data and attacked legitimate studies" and led a "prolonged campaign of misinformation" to convince government agencies, farmers and consumers that Roundup was safe, Johnson's lawsuit states.
The lawsuit points to a long list of studies suggesting the active ingredient in Monsanto's herbicides — glyphosate — is can lead to non-Hodgkin lymphoma. The International Agency for Research on Cancer classified glyphosate as a probable human carcinogen in 2015.
They also cite research showing showing Roundup's glyphosate formula is more toxic than glyphosate alone.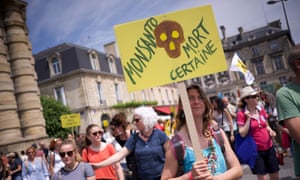 "We look forward to exposing how Monsanto hid the risk of cancer and polluted the science," Johnson's attorney Michael Miller told The Guardian. "Monsanto does not want the truth about Roundup and cancer to become public."
Monsanto has fiercely denied the allegations, pointing to findings by the Environmental Protection Agency in its defense.
According to the court record, Johnson had a job as a school groundskeeper, where he applied numerous treatments of Monsanto's herbicides from 2012 until 2015. He was healthy and active before he got the cancer diagnosis in August 2014.
In a January deposition, Johnson's treating physician testified that more than 80% of his body was covered by lesions, and that he probably had only a few months to live.
The trial will proceed on June 18. A jury will be allowed to consider punitive damages.